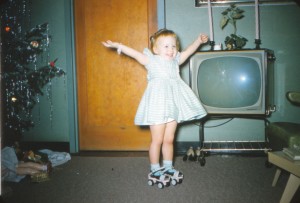 Some of the earliest pictures my parents took of me have a television in the background.
So, television has been around as long as I have.
Well, in truth, the mechanics of TV has been around a lot longer than I have.  I'm really a child of early television programming.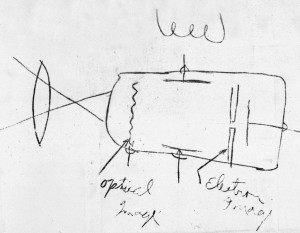 The TV mechanism was actually invented by an Utah boy named Philo T. Farnsworth.  He first sketched the idea of the vacuum tube in his high school chemistry class.  He went on to develop the first electric television set in the 1920s.
The Great Depression and World War II supply shortages stalled the spread of television.  The research continued but at a slower rate because materials and man-power were needed for the war effort.
The first television broadcast went out in 1936.  There were maybe three television receivers at the time, all in the same building. The people watching were mostly radio executives.   It's fascinating television. Fast forward to around 1:15 to view some incredibly  innovative television.  Watch a minute or so of it…if your heart can stand the excitement of it all!
In the wake of WWII, and in conjunction with the Baby Boom and the growth of the middle class, television exploded. There are tons of websites that explore the history of television.
One of the best I've found is run by the Archive of American Television (the Emmy people).  There are tons of video interviews with the people who made television history.  It's really worth a few minutes to explore.  For example, here's what I found in 15… errr make that 30 minutes of exploring.  There's so much interesting stuff I kept running into.  As you can see, there is a wide variety of videos about the history of television on this site.
One of the Ed Sullivan directors talks about the first time the Beatles appeared on the show.

Dan Castellaneta talks about the origins of Homer Simpson's "D'oh!"

Walter Cronkite on getting the anchor seat at CBS News

The producer of Survivor, Mark Burnett, talks about being a pioneer of reality television.

Paul Shaffer talks about working with major acts while the musical director for SNL.

Writer/producer Donald Bellisario talks about his hit television shows including Magnum, P.I.; Quantum Leap, JAG and NCIS.

Genie Francis, "Laura" from Luke and Laura fame on General Hospital

Okay, I had to cut myself off.  This site is addicting!
The Future of Television
Television has changed drastically in the past few decades.  The Big Three Networks (CBS, NBC & ABC) use to dominate television.  Now it's the Big Five with the addition of The CW and Fox-TV .  Ted Turner introduced us to the 24-hour-news-cycle with CNN.  Cable television gave us niche programming.  HBO brought viewers… who were willing to pay for it… a higher level of television story-telling and production.
The Netflix Model
Now Netflix introduced a new method for producing and distributing television and introduced us to "binge watching."
Prior to several people stepping forward to accuse him of sexual harassment,  Kevin Spacey pioneered a new style of television that we take for granted today. The star and producer of House of Cards, believes the Netflix model is the future of television. (Runs 3:45)

The YouTube Connection
On April 23, 2005 this short video about a trip to the zoo was the first to be uploaded to YouTube.

Now, just over a decade later, YouTube is the second largest search engine on the Internet  behind Google.  YouTube has evolved from a on-line service that "steals" television, to a partner with television.  What television show doesn't have a YouTube Channel?
Time Magazine's Brian Moylan examines YouTube's impact on television in this short article, A Decade of YouTube Has Changed the Future of Television.
Another "vision" of the future of television
Self-proclaimed "famous new  media artist" Jeremy Bailey has a fairly unique vision of what television holds for us in the future. I don't know how feasible his ideas are… but 10 years ago a mobile phone that could surf the Internet, take and share pictures and navigate us to places without a map was pretty "out there" thinking. (Warning: This video may make you dizzy!)

Your Assignment
Assignment #1:
Watch the Kevin Spacey video.  Read the Time magazine article about YouTube.  Watch (carefully) Jeremy Bailey's vision of the future of television.   Do some research on your own.
Now create a 3-5 minute video on your vision of the future of television.  You must reference at least one of the videos and/or articles in your post and a link to at least one cite you used as research in your discussion.  (According to this video I watched on Fox News …) Post your video to the Blog#11: Future of TV discussion board.
Assignment #2
Go to the Archive of American Television (the Emmy people) and look at the Historical Events and Social Change link or the Television Industry link.  Choose a topic and then watch three of the Interview Clips on this Topic.  (Most of the clips are 1 to 12 minutes long.)  Now go to Blog#12: Emmy TV History discussion board and explain why you chose that topic and share what you learned with your classmates.  Explain why you think this information is important and/or interesting. Make sure to indicate who you listened to and include the links to their clips.
Reminder: I appreciate seeing student comments to this blog, but I ONLY EVALUATE the comments posted on the Canvas Discussion Groups.