by Terri Reddout
I remember listening for my favorite songs on KENE Radio. I even won a contest for the best joke of the day. (I remember the joke. I have no idea how I won.)

Your generation, Millennials and Gen Z, spend about 18 hours a week listening to audio. Like me, your first choice is radio, but you also use audio sources like Spotify and Pandora, in addition to podcasts. Bottom line, in my day you I listened to radio on a radio. In your time "radio" doesn't have to come from a radio. You can listen to audio on you iPod, your computer or your smart phone. You don't get to hear the static as you tune a station in for the evening.
They say radio is dying. In my mind, radio is like a cat… it has nine lives. Everyone thinks it's going to die, but then radio reinvents itself over and over and over again.
A little radio history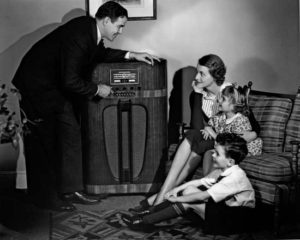 There was a day and time where people would actually gather around a radio set and "watch" radio. When radios first moved into our homes they were a bit clunkier. As you can see in this picture, the radio was slightly smaller than today's big screen TVs.
Whenever your program came on, you ran into the living room, sat down in front of the radio and watched it as you listened to the drama of Little Orphan Annie, the comedy of the Jack Benny Show or the soap opera The Guiding Light.